Chancellor, SD
POET Biorefining - Chancellor, SD, is located 5 miles west of Lennox, SD and approximately 20 miles southwest of Sioux Falls, SD in the heart of prime South Dakota corn growing country. The plant utilizes over 35 million bushels of locally grown corn and processes it into 110 million gallons of ethanol on an annual basis.

Originally built in 2003 as a 45 million gallon plant, the Chancellor facility was expanded in March of 2008 to an annual production level of 100 million gallons of ethanol and 56,000 tons of POET's premium Dakota Gold® dried distillers grains with solubles (DDGS). This level of production makes it the largest of the POET plants.

A unique aspect of the POET Chancellor facility is the ability to produce the energy used at the plant. Our solid waste fuel boiler burns several hundred tons of wood chips each day and captures and burns methane gas from the Sioux Falls city landfill. These efforts represent an opportunity to produce green energy from recycled fuel sources creating a win-win for the city of Sioux Falls and the Chancellor facility.

We at the Chancellor facility take pride in our efforts to focus on helping our producer customers from the surrounding eight counties. Our facility has fast and efficient unload speeds, competitive bids for corn crops and a professional and knowledgeable staff here to assist with all of your corn marketing needs.

POET Biorefining - Chancellor is pleased to be a part of this community, employing approximately 60 people. We are proud to enhance the local economy with improved corn prices, value-added markets for farmers, good-paying jobs and increased local tax revenue.

We are also proud to be a part of Growth Energy which encourages a positive perception of our plant and industry. Growth Energy promotes the expansion of the use of ethanol in gasoline and the importance of decreasing our dependence on foreign oil through smart policy reform and a proactive grassroots campaign.
Live Truck-line Camera
---
---
Now Hiring!
---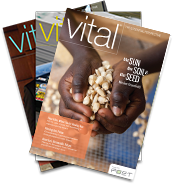 Want to stay connected? Get the latest news & information directly from POET through our print and online magazine, Vital - the Essential Perspective. learn more >>
OverviewInformation for InvestorsLocal Cash Corn Bids
---
Hours of Operation

Administrative Office
Mon - Fri, 8:00 AM - 5:00 PM

Loading/Receiving
Hours vary.
Click here for current schedule.

Contact
POET Biorefining - Chancellor
27716 462ND AVE.
CHANCELLOR, SD 57015
PH: 605.647.0040
FAX: 605.647.2442
chancellor@poet.com